Environment Social Governance
Congratulations! China Medical University Hospital receives ESG certification
The first hospital nationwide to pass the Sustainability Reporting GRI New Standards


Our hospital passed the sustainability report verification
Presented by Mr. Bao Boyu, Deputy General Manager of SGS (right), the Sustainability Report Declaration was awarded to Hospital Director Zhou Deyang (left)
---
hina Medical University Hospital has consistently upheld the Global Sustainability Development Goals and fulfilled its corporate social responsibility for many years. On March 8, 2023, it passed the Sustainability Report verification by the third-party verification company SGS. On April 10, the hospital was awarded the Sustainability Report Declaration by SGS, which was received by Zhou Deyang, Director of the hospital. This makes China Medical University Hospital the first medical institution in Taiwan to meet the new standards.

Upon passing the sustainability report verification, Hospital Director Zhou Deyang (5th from the left, front row), SGS Deputy General Manager Bao Boyu (6th from the left, front row), Product Manager Chen Zhaoqi from the Central District (7th from the left, front row), along with the hospital team, gathered for a group photo.
---
China Medical University Hospital adheres to the core values of "Patients First, Employees Important, and Pride in the Hospital." On the path towards becoming an "outstanding world-class medical center," the hospital aims at global sustainable development, upholds the core corporate culture of sharing and giving back, and fulfills its corporate social responsibility. It lays the foundation for the hospital's sustainable operations and creates shared societal value.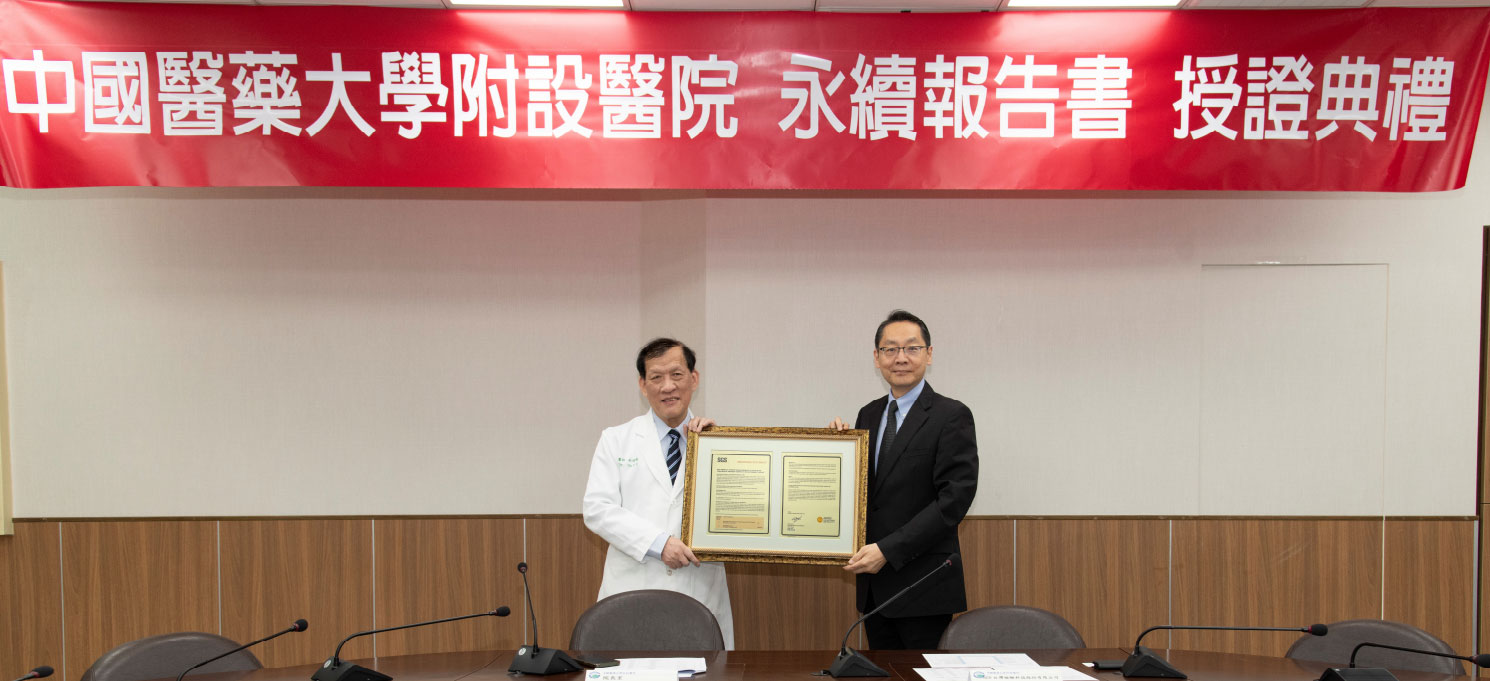 The "2022 Sustainability Report of China Medical University Hospital" was prepared in accordance with the GRI Standards 2021 Edition and is based on the AA1000 Assurance Standards. The report presents the hospital's performance in governance, social welfare, and environmental sustainability in 2022, and discloses data from the past three years for comparability. Through stakeholder and significant sustainability issue identification and analysis, the hospital's significant sustainability issues in 2022 include medical quality and service, doctor-patient relations, talent attraction and retention, ethical behavior and medical ethics, privacy protection, occupational safety and health, risk management, and human capital development.
The hospital places patients at the center of its operations, actively develops advanced medical treatments, and builds a smart hospital. It continuously enhances medical care quality and provides a convenient and safe environment for the public. Through the organizational structure and horizontal links of various departments in the hospital, it supports the medical team in carrying out their tasks and creates a friendly and healthy workplace. It extends sustainable value to external stakeholders, working closely with medical material suppliers, nearby communities, and community medical networks to build a closely-knit community health circle and create value for community health. It also combines internal and external resources and personnel, not only improving the quality of medical care and the capacity of caregivers in remote areas, but also spreading love and care to the mountains, embodying public welfare. In terms of environmental sustainability, the hospital responds to the green procurement policy, increasing the proportion of environmentally friendly product purchases each year, and reviews the use of energy resources within the hospital. It replaces and introduces clean energy, implements energy-saving, carbon reduction, and water resource management, and links corporate volunteers and medical volunteers within the hospital to establish a green innovation experience center, promote environmental education experience activities, and improve the health value of the global environment.
China Medical University Hospital, bearing the heavy responsibility of medical care and education, responds to the Global Sustainability Development Goals released by the United Nations on September 17, 2014, to continue the Millennium Development Goals, hoping to achieve balanced development in social, economic, and environmental aspects by 2030. The hospital implements the ESG (Environmental, Social and Governance)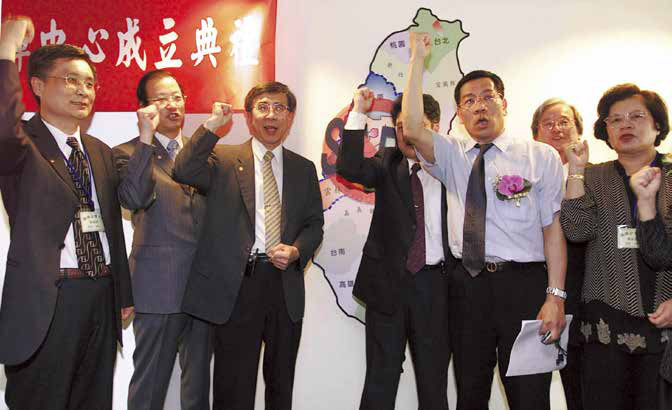 In 2003, Chairman Tsai Chang-Hai upheld the principle of "take from society, use for society" and took on the role of commander at the Central Region SARS Prevention and Control Command Center.
---
Environmental Care:
Our institution has set up an Energy Management Committee, which formulates energy management measures and sets the direction for energy saving and environmental protection, promoting advanced energy management operations and green energy-saving actions. This contributes to the creation of an energy-saving, carbon-reducing lifestyle with the hospital at its core. In accordance with the energy management requirements of the Ministry of Economic Affairs' Energy Bureau and the standards of the international ISO50001 certification, we have clearly established the "Contractor Energy Management Guidelines" and "Procurement Bidding Instructions". All departments adhere to the hospital's policies during procurement and bidding, collectively striving towards the goals of "energy saving, waste reduction, and health".
Social Responsibility:
Community Health Construction and Integrated Care Service of Community Medical Groups
By integrating community resources, our hospital established "Community Health Stations", conducting regular health promotion services with a focus on the prevention and control of obesity, metabolic syndrome, elderly fall prevention, and health promotion, tobacco control, and cancer prevention. Our hospital was specifically selected by the National Health Bureau as an excellent unit for community health construction. In 2018, it was the first in Taichung to secure the "Dual Community" health construction project. As of 2004, our hospital has reached 83 groups with its integrated medical care service system for communities, providing care for 250,000 community residents in the Zhongtou area, the largest scale in the country.
Our community medical group provides integrated care planning, including case management, 24-hour emergency consultation hotline, etc., which can enhance medical quality and ensure patient rights. In 2014, cloud technology was introduced into health management services, developing the Health Management Medical Point APP for community medical groups, providing real-time and optimized community medical care services.
Dedicated to Mountain Area Healthcare:
For a long time, our hospital has cared for the health of people in remote areas and invested in the integration of mountain medical resources. Since 1997, we have participated in the "Community-Based Mountain Medical Care Service Model Establishment and Promotion Research Project" initiated by the Central Health Insurance Bureau and have long served as an integration window. Since 2000, we have undertaken the "Dili Village Outpatient Department", providing 24-hour on-site medical services for residents of four villages along the Zhushui Line in Xinyi Township, Nantou County. The following year, we expanded our service to 14 villages in Xinyi Township, pioneering the division of medical and healthcare responsibility zones, providing primary outpatient medical care, 24-hour emergency medical care, home medical care, and preventive healthcare services, with remarkable results. In 2018, we assisted clinics in Xinyi Township to join the "National Health Insurance Family Doctor Integrated Care Plan", further providing high-quality care and health management for residents in remote areas.
Emergency Aid:
Adhering to the principle of "take from society, use for society", we fulfill the social responsibility of the medical center. When major disasters and emergencies such as the 921 Earthquake, Taozhi Wind Disaster, SARS Epidemic, Sinlaku Wind Disaster, 88 Flood, Baxian Dust Explosion occurred, we immediately mobilized doctors, nurses, pharmacists, social workers, and administrative staff to form teams, providing relief care and assistance, accompanying countless people through the most difficult times, infusing new life energy, and moving towards the future.
Hospital Governance
Upholding the core values of "Patient first, Employee focus, and Hospital pride", as well as the organizational spirit of "Health, Care, Innovation, and Excellence", we provide high-quality medical services in both traditional Chinese and Western medicine. Centered on patient service, we develop various information software suitable for medical staff and patients, combine wearable devices, and build a smart hospital to provide a convenient and safe medical environment for the public. We continue to introduce precise medical equipment, modern facilities, and more cutting-edge medical service processes and technologies, offering the public better healthcare options. Our hospital strives to reduce staff workloads, improve the nursing work environment, increase supporting manpower, implement reasonable working hours for resident physicians, and create a favorable working and learning environment through the use of information technology and process improvement.
China Medical University Hospital Corporate Volunteer Team
In line with Chairman Tsai Chang-Hai's principle of "giving back to society", the "China Medical University Hospital Corporate Volunteer Team" was established in March 2016. In over four years, more than 400 of our colleagues have joined the ranks of corporate volunteer service. Our colleagues voluntarily serve in their free time, using social care, in-depth education, and environmental protection projects to provide professional assistance to the socially disadvantaged and local residents in neighborhoods, communities, and remote tribal areas. We have organized hundreds of volunteer activities, serving over ten thousand people, extending from familiar hospital fields to campuses, workplaces, communities, and remote areas. In the future, our corporate volunteer team will continue to cultivate, expand its service scope, and let the footprints of corporate volunteers spread throughout Taiwan, illuminating every corner of Taiwan with love.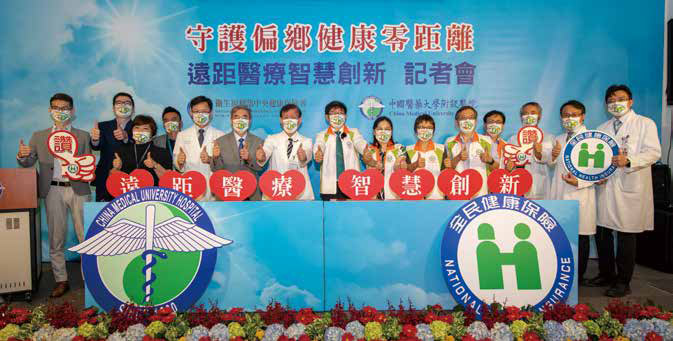 The National Health Insurance Administration collaborates with the China Medical University Hospital to hold a smart medical remote innovation press conference, caring for remote areas.
Honors and Achievements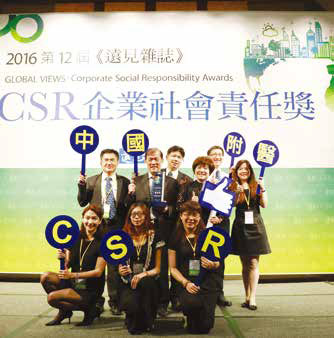 National Quality Award for Medical Care

2018 19th National Quality Award for Medical Care - Smart Medical Environmental Management Badge
2019 20th National Quality Award for Medical Care - Smart Medical Environmental Management Badge

Energy-saving-related awards from the Ministry of Economic Affairs

2016 Energy-saving Excellence - First Class Award
2017 Water-saving Excellence Award and Water-saving Master Commercial Group Excellence Award
2018 Energy-saving Benchmark Silver Award
2018 Energy-saving Elite Excellence Innovation Award
2020 Water-saving Excellence Unit

National-level Awards

2015 Ministry of the Interior Friendly Architecture Special Excellence Award
2016 Ministry of Health and Welfare National Health Promotion Hospital Creative Plan Ecological Sustainability - First Class Award
2019 National Volunteer Service Excellence Volunteer Team
2019 First National Corporate Environmental Protection Silver Award
2020 Ministry of the Interior 108 Disaster Prevention and Rescue Deep Cultivation Third Phase Plan Excellence Enterprise

Other Awards

2016 "Group Medical Care, Love for Hometown" won the 12th Far Eastern Magazine Corporate Social Responsibility Award - Public Welfare Promotion Model Award
2016, 2018, 2021 Taichung City Government Second, Third, Fourth Low Carbon City Outstanding Contribution Awards
2018 Taichung City Government Barrier-Free Friendly Environment Selection Excellence 2018 Taichung World Flower Expo Volunteer Team Contribution Award
2018, 2019, 2020 Taichung City Government - Green Procurement Excellence Civil Enterprises and Organizations
2020 Taichung City Barrier-Free Friendly Environment Selection Friendly Architecture Civil Group - Gold Point Award
2021 Taichung City Government Taichung City Happy Workplace - (1) Five Star Award (2) 2 Happy Creative Awards (3) Guardian Happy Workplace Award
Corporate Social Responsibility Report
CMUH Corporate Sustainability Responsibility
The China Medical University Hospital (CMUH) was established in 1980, and has now been operating for over 41 years. With the concerted efforts of all our colleagues, we are dedicated to education, research, and healthcare services. We have established a solid foundation and have been steadily growing year by year, evolving from a local hospital into an internationally-recognized medical center.
Download 2022 CMUH Corporate Sustainability Resport
We welcome your valuable opinions. If you have any suggestions or questions about the corporate social responsibility practices at China Medical University Hospital, please feel free to contact us at: cmuh.question@tool.caaumed.org.tw Thank you.