Preface by the Chairman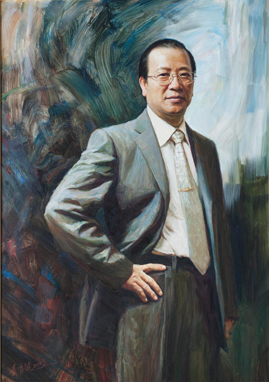 Chairman PhD Chang-Hai Tsai
Innovating for excellence, connecting the world for global partnerships
With its core values of "honor students, respect teachers, and take pride in the school," China Medical University (CMU) aims to develop into a "world-class university of excellence." CMU is known for its quality teaching, research, and services, as well as its management performance and international visibility.
It ranked 237th in the Shanghai Jiao Tong University World University Rankings in 2021, 2nd in Taiwan behind National Taiwan University, and 1st among private universities. It ranked 1st among private medical universities in Taiwan by U.S. News World University Rankings and by University Ranking by Academic Performance Rankings 2022. We strive to construct an intelligent university surrounded by innovative teaching and learning. We continue to strengthen our specialized research centers: cancer, cardiovascular disease, neurology, geriatrics, immunology, new drug development, and Chinese medicine. Meanwhile, we put great efforts into connecting with the biomedical industry and technologies in the hope of becoming the" Stanford University of Taiwan."
The CMU Healthcare Systems uphold the core values of "respect patient dignity, value employee contribution, and be proud of the hospital." It strives to become a world-class medical center of excellence. The CMUH system comprises five affiliated hospitals, including China Medical University Hospital (CMUH), Children's Hospital, Beigang Hospital, Tainan Municipal An-Nan Hospital, and Hsinchu Hospital. As part of our mission to save lives, we must provide top-notch, quality emergency, cardiac, and brain care. Our team put great efforts into establishing specialized medical centers for cancer, stroke, cardiovascular disease, organ transplantation, and reconstructive surgery. Organ reconstruction surgery and living donor liver transplantation have been at the international top level; stroke center and emergency and trauma center are the leading institutes in Asia.
We strongly focus on delivering frontier medicines, such as stem cell therapy, immune cell therapy, and gene therapy. Our stem cell therapies for acute myocardial infarction and acute stroke are the first in the world to be approved by the FDA and TFDA for clinical trial. Stem cell therapy for severe COVID-19 patients has been approved by the FDA and TFDA for phase I and IIa clinical trials. CMUH has the most TFDA-approved immunotherapy protocols and treated the most cases in Taiwan. We have created the Center for Big Data, the Artificial Intelligence Center for Medical Diagnosis, the X-Dimension Center for Medical Research & Translation, and the Precision Medicine Center as AI and precision medicine continue transforming the healthcare system. With patient-centered quality medical services, CMUH hopes to become Taiwan's Mayo Clinic.
As the nation enters the post-pandemic era, digital transformation and innovation are paramount. The basic yet most important step is to nurture future talents. Together with Asia University, CMU has partnered with Amazon Web Services (AWS) to establish the Cloud Innovation School, training 2,000 students each year. It is the first cloud school in Taiwan to cultivate talents in the smart healthcare industry while teaming up with international companies and academic institutions, such as Microsoft Corp, Google LLC, and the U.S. National Institutes of Health (NIH). These collaborations aim to blossom in digital healthcare and industries through A.I. healthcare applications. Following Stanford University and Silicon Valley Technology Park, CMUH devotes itself to building the Hsinchu International Health Science Park and the Shuinan International Health Science Campus in Taichung. The goal is to encourage academia-industry cooperation, strengthen R&D, patents, and technology transfer (Paper, Patent, Product; 3Ps), and build Taiwan's new ventures to create a win-win situation for academia and industry.
"Innovating for excellence. Connecting the world for Global Partnerships." Through innovation, we are capable of serving the world. The 2030 new visions for CMU: nurture students to be good doctors with leadership, cultivate R&D PhDs in academia and industry cooperation, develop research specialties, establish cross-industry collaborations, encourage innovation and entrepreneurship, build an intelligent university and enter the world's top 100 universities. The vision of the Healthcare system 2030 is to "build a friendly hospital, continuously improve the quality of medical services, develop regenerative medicine, digital medicine, and precision medicine, and build a Smart AI Hospital", leading the education and healthcare in Taiwan to take the lead in the world.
Upholding the spirit of "health, care, innovation, and excellence," CMU & Healthcare System strives for a world-class university and medical center. Our plan for a high-tech biomedical park further allows us to contribute to Taiwan and shine in the world.