All-day emergency AMI smart platform
All-day emergency AMI smart platform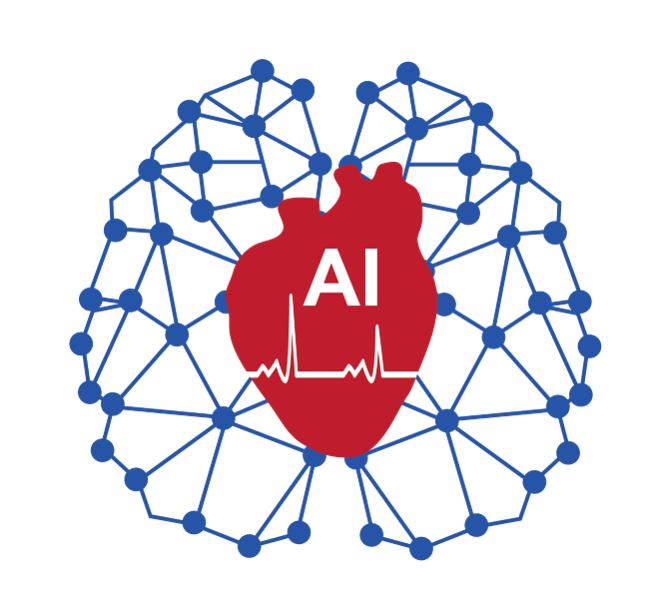 Heart disease has been the second leading cause of death in Taiwan for many years. It consumes a huge amount of medical resources every year, especially acute myocardial infarction. Acute myocardial infarction(AMI) is a part of acute coronary syndrome (ACS), which including ST-segment elevation myocardial infarction (STEMI), Non ST-segment elevation myocardial infarction(NSTEMI), etc. AMI causes acute myocardial damage with symptoms including chest pain, shortness of breath, and cold sweats, etc. AMI can be divided into STEMI and NSTEMI according to the patient's electrocardiogram (Electrocardiography, ECG/EKG) showing whether the ST segment rises or not. Among them, STEMI occupies the majority, and its mortality rate(8%) is also the most dangerous AMI among them. So far, CMUH has developed an all-day STEMI detect system based on 12-lead ECG, which is the most important diagnostic basis for STEMI. To enable patients with STEMI to receive cardiac catheterization as soon as possible.
The All-day emergency AMI smart platform was developed using ECG data and enabled by AI technology to complete STEMI detection in almost instant time. In addition, CMUH has also developed the ASAP system in this platform for patients with atypical STEMI symptoms. To establish a comprehensive STEMI patient protection network. This platform enables patients to perform initial screening and diagnosis of STEMI patients when enter the CMUH emergency, so as to receive CAD surgery as soon as possible.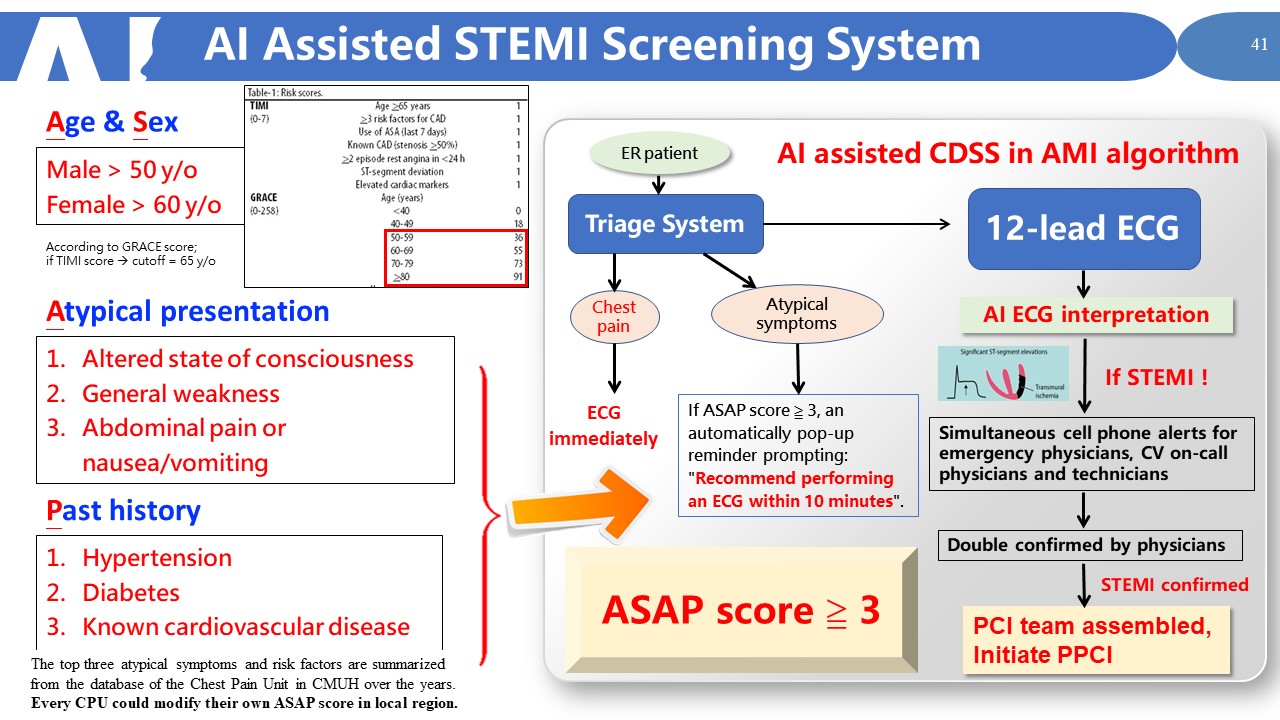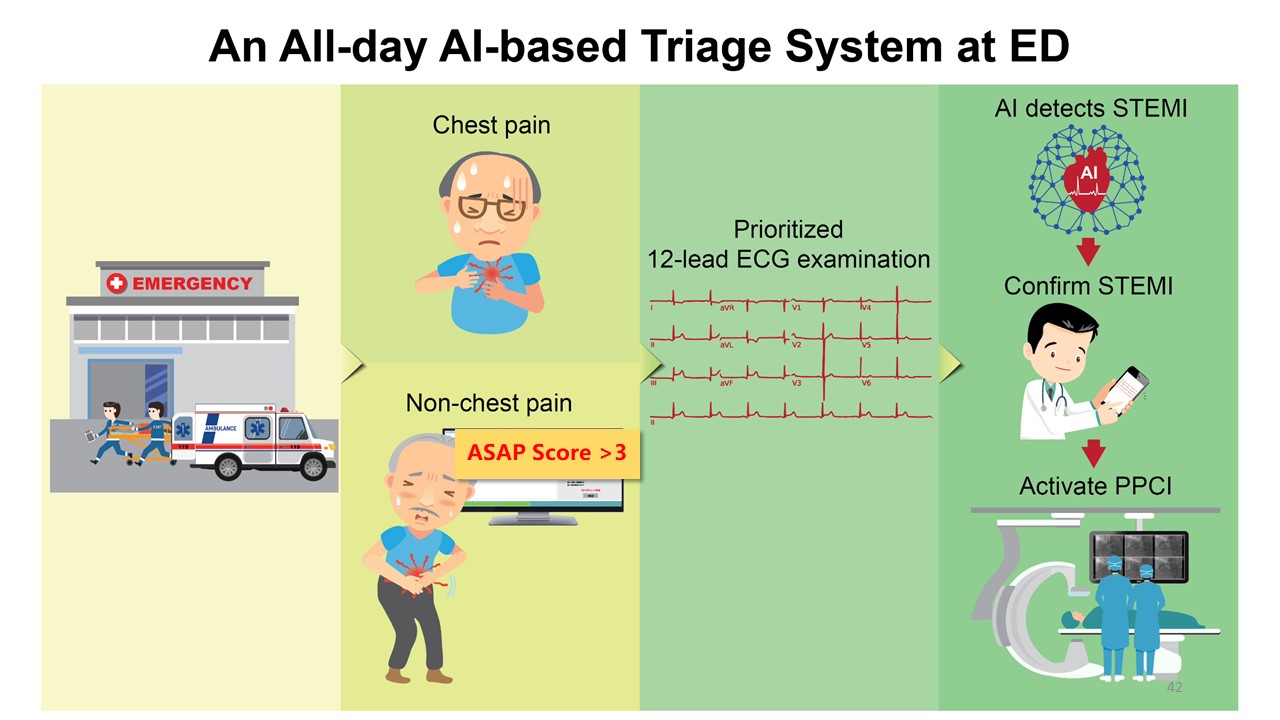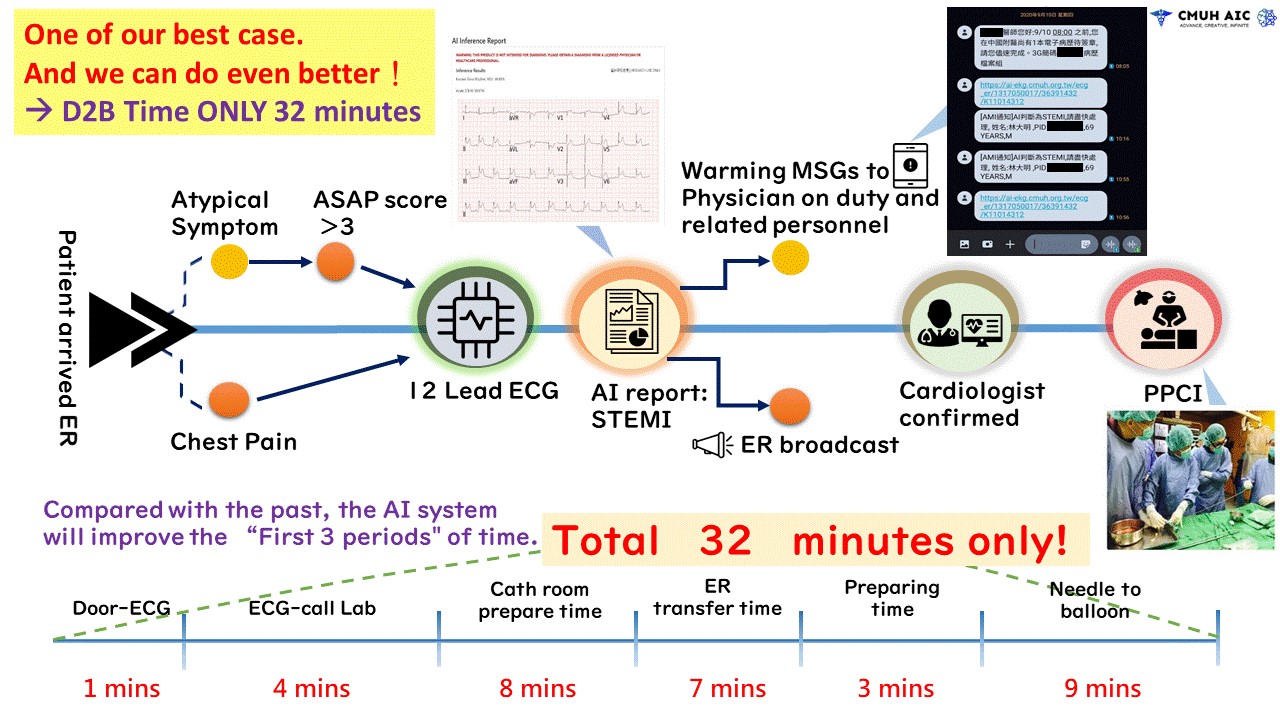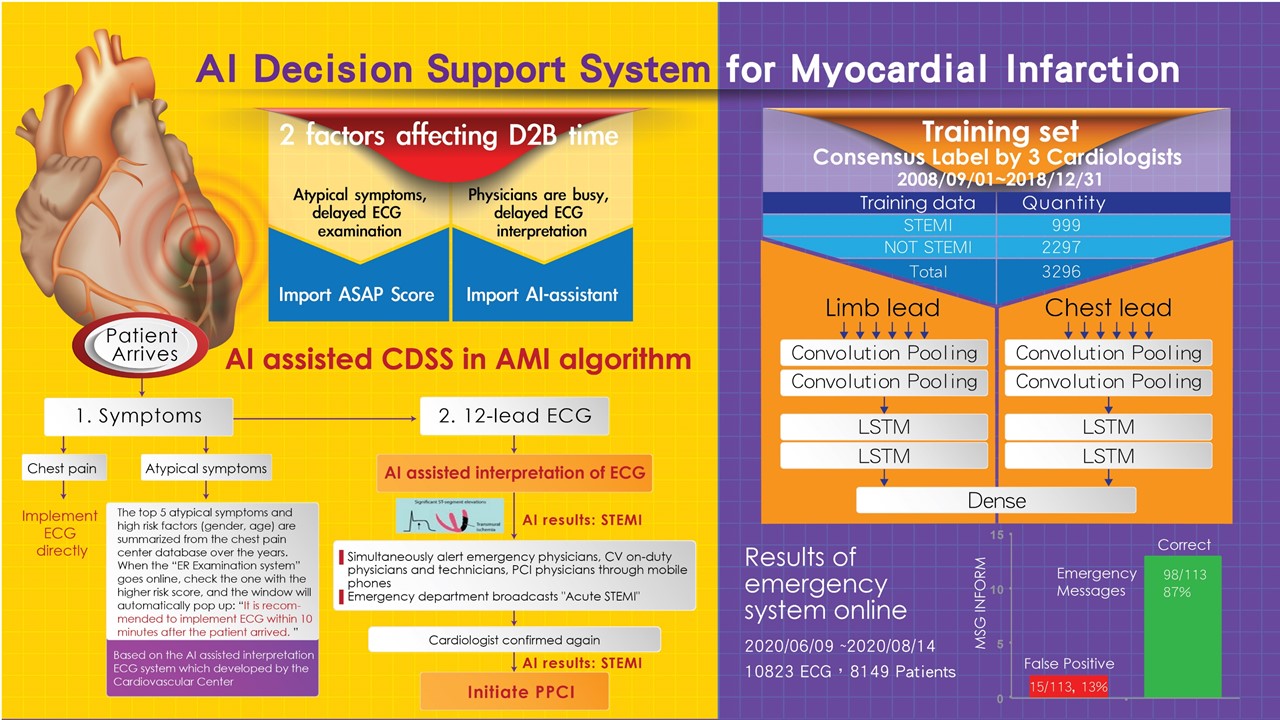 Number of usages:
Time interval: 2021.07.17 – 2022.08.31
Number of the users / quantities: 124,898 / 238,877
Achievements
Papers:
Kuan-Cheng Chang, Po-Hsin Hsieh, Mei-Yao Wu, Yu-Chen Wang, Jung-Ting Wei, Edward S C Shih, Ming-Jing Hwang, Wan-Ying Lin, Wan-Ting Lin, Kuan-Jung Lee. Usefulness of Multi-Labeling Artificial Intelligence in Detecting Rhythm Disorders and Acute ST-Elevation Myocardial Infarction on 12-Lead Electrocardiogram. European Heart Journal - Digital Health. 26 February 2021.
Kuan-Cheng Chang, Po-Hsin Hsieh, Mei-Yao Wu, Yu-Chen Wang, Jan-Yow Chen, Fuu-Jen Tsai, Edward S. C. Shih, Ming-Jing Hwang, Tzung-Chi Huang. Usefulness of Machine-Learning-Based Detection and Classification of Cardiac Arrhythmias with 12-Lead Electrocardiograms. Can J Cardiol. Can J Cardiol. 2021 Jan;37(1):94-104. doi: 10.1016/j.cjca.2020.02.096. Epub 2020 Mar 5.
Certificate:
TFDA "EFAI STEMI Detection Software" – Ministry of Health Medical Device No. 007343
TFDA "EFAI ECG Analysis Software" – Ministry of Health Medical Device System No. 007324
Award:
NHQA 17th : 24/7 Smart Assist System for STEMI