Sepsis AI prediction
Sepsis is the ultimate common path of death from most infectious diseases in the world. Among 47 to 50 million cases of sepsis in the world every year, at least 11 million deaths occur. When sepsis occurs, according to the new international guidelines, in order to reduce the risk of death, empiric broad-spectrum antibiotics should be administered intravenously within 1 hour after diagnosis. However, nearly 50% of traditional tests (such as blood culture) cannot detect infectious pathogens, and the positive rate of detection is low while the detection time is quite long.
In order to effectively increase the positive rate of detection, shorten the detection time, and assist physicians to adjust clinical medication as soon as possible, our hospital uses deep learning technology to train patients' historical physiological data and blood test reports, and develops the "AI-Assisted Medical Diagnosis System for Sepsis" to assist physicians for sepsis's early detection, which improves the survival rate of patients.
The system is integrated into the prediction end of the hospital's intelligent antibacterial platform. If the system warns the patient that the possibility of sepsis is high, the medical staff can strengthen medical care and monitor physiological values in advance; for the emergency department, the medical team can give antibiotics and infusion treatment in time, and give treatment recommendations according to the degree of damage to each organ.
System accuracy: ACC (accuracy) 87%, Sensitivity (sensitivity) 78%, Specificity (specificity), this system has applied for Taiwan patent (CP-5298-TW) and US patent (CP-5298-US).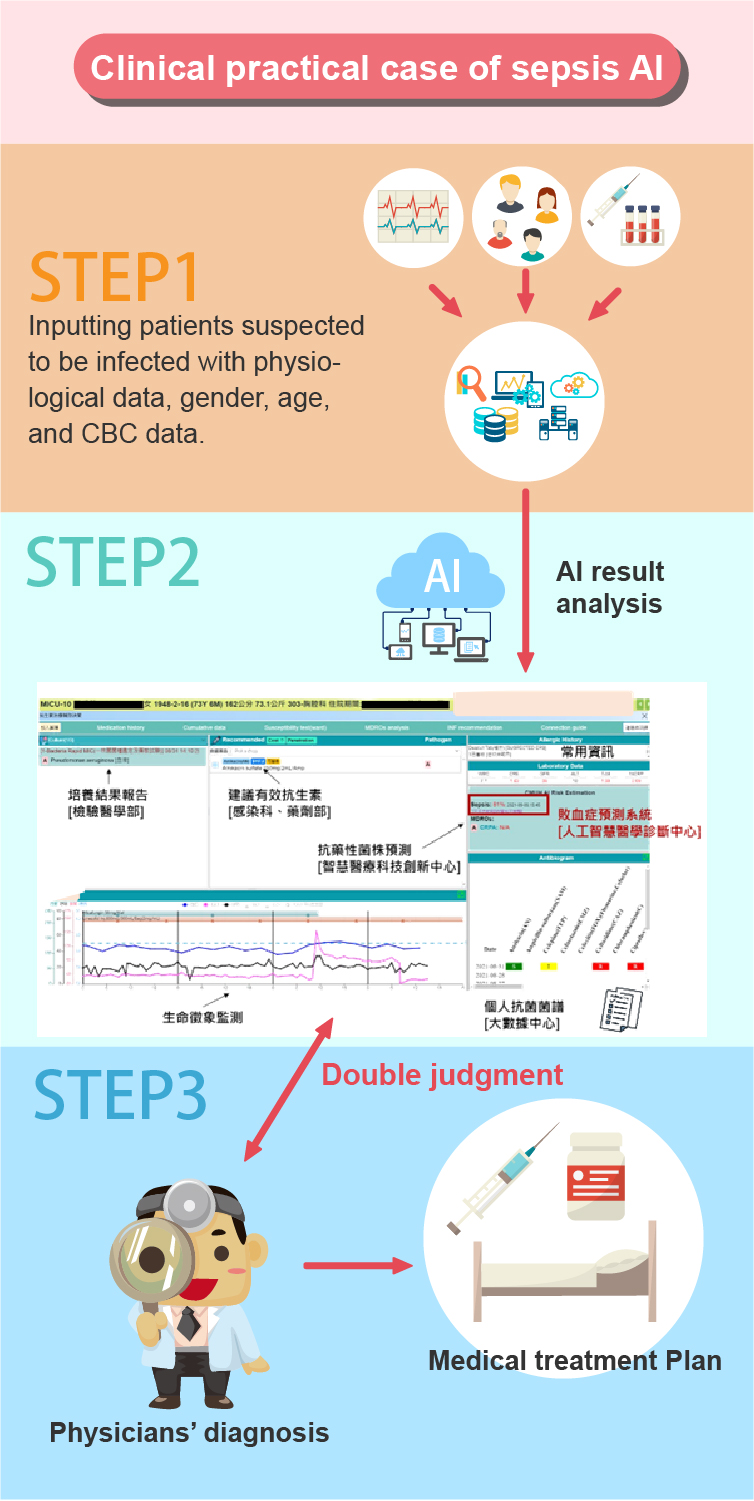 (Figure description)Clinical application of AI-assisted sepsis automatic diagnosis system
---
Achievements
Papers
A Machine Learning-Based Efficient Sepsis Detection Using Electronic Health Records. CIBB 2021, Oral presentation
Award
2022 TFDA active counseling
Patent
A method of artificial intelligence assisted in medical diagnosis for sepsis (Applying)
Product
Smart software for Sepsis Detection and Mortality Prediction