Otorhinolaryngology(ENT),Head and Neck Surgery
The Ear, Nose and Throat (ENT) division was founded at the same time as the hospital and has been around for more than 20 years. With the effort of all the directors and doctors, we are now one of the leading ENT departments in central Taiwan. Professor Cai Ming-xiu has been at the helms since 1996. Under Cai's leadership, we have been exploring the fields of head-neck tumor treatments and surgery. Now we treat not only traditional ENT disorders, but also nasopharynx cancer, oral cancer, throat cancer, salivary gland tumors. This has become our specialty.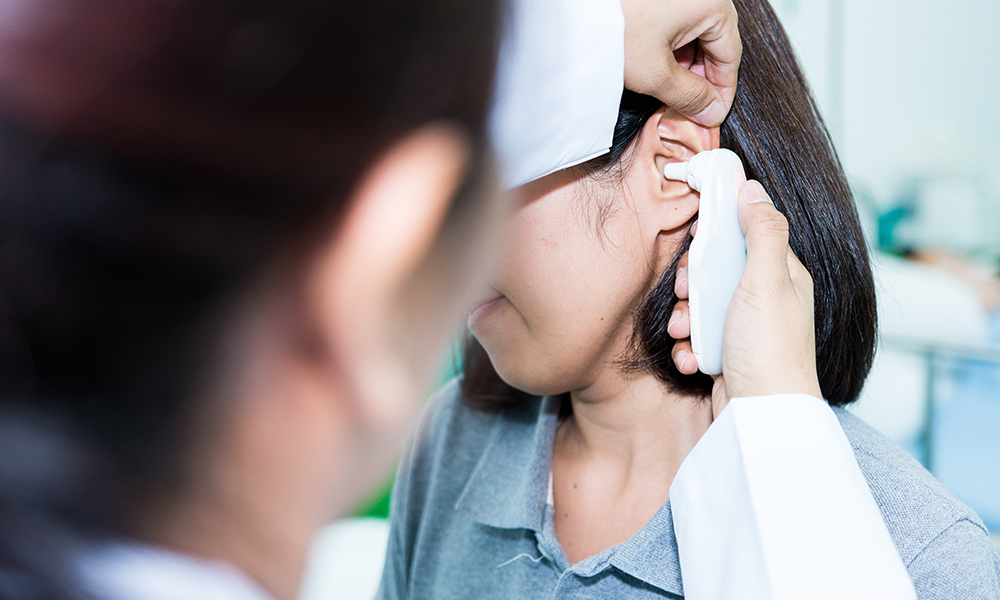 In Nov., 1997, we moved to the second floor of second medical building on Xueshi Rd., facing Zhongzheng Park, due to renovation of basic medical building. We moved again to the first floor of first medical building on Yude Rd. in 2006 and haven't moved since. Now we have a spacious and bright outpatient waiting lounge and four clinics equipped with five modern double-sided automatic examining tables. The endoscopy room has a nasopharyngeal fiberoscope and an audio strobe tester. Two special examination rooms are equipped with sinus ultrasound, rhinomanometer , voice analyzer, facial nerve stimulator, and electronystagmogram that check balance and brainstem auditory reflex. There is also a language therapy room and two complete sound-proof hearing examination rooms.
We set up a head and neck cancer clinic on B1 of the Cancer Center at the new Wuquan medical building and became the most comprehensive head and neck cancer medical center in central Taiwan, integrated with internal oncology, radiation oncology and cancer case management division.
We have four exclusive ORs on the 3rd floor of Yude Rd.'s first medical building. Our surgeons perform general or sophisticated operations covering diseases in ENT, head, and neck.
We have 39 exclusive beds on the 7th floor of first medical building as well as doctor-patient discussion rooms, physician research rooms, and treatment rooms.
We became one of China Medical University Hospital's highest-level divisions in 2002 due to the need for sub-specialist development. Professor Cai Ming-xiu was the director then. Associate Professor Dai Zhi-zhan led the otolaryngology department, and Associate Professor Lin Jia-de led the speech therapy room. In 2014, as the number of patients grew and there was the need for more sub-specialties, we set up various sub-specialties, including otology, rhinology, laryngology, head and neck surgery and speech therapy room, led respectively by Associate Professor Lin Jia-de, Associate Professor Dai Zhi-zhan, Dr. Zou Yong-en, Dr. Hua Jun-hong and Dr. Wang Qing-yuan.
Oral and throat cancer is Taiwan's sixth biggest cancer. The number of head and neck cancer patients we treat ranks among the highest in all hospitals in the country. Our treatment quality has been excellent over the past decade in surgery, radiotherapy and chemotherapy. We can safely say we have already reached international level. The only flaw in the whole process was that no good solution was found for post-treatment problems in mastication, swallowing, talking, aesthetics and stiffness in the shoulder and the neck.

To solve these problems, we established the Sound and Swallowing Center in November 2016 to improve and prevent various cancer-related complications such as dysarthria, vocal dysfunction, swallowing disorders, head and neck lymphedema, neck soft tissue fibrosis/contracture, teeth-clenching, shoulder contracture and so on. For patients undergoing surgery and radiotherapy, the center arranges language therapy at outpatient clinics, focusing on pharyngocise to avoid pharyngeal deneration of structural change that affect long-term sound and swallowing functions.
Regular re-evaluations are conducted on sound and swallowing functions to facilitate early intervention if functional deterioration is found. We hope the patients have less difficulty in swallowing and speech after receiving our rehabilitative treatment.