Our Speciality
The hospital's occupational medicine clinic provides services such as occupational disease identification, assessment of work resumption, overwork and maternal health consultation, and consultation on applications for labor insurance payouts regarding occupational injuries.
What is occupational injury and occupational disease?

Occupational injury
The injury hurts a labor in work. For example, a labor is working in a factory and her/his figure is damaged by a machine. It shall be an occupational injury.
Occupational disease
The disease is caused by a labor exposing in the environment with chemical, physical, biological, human-factor or other hazards for a long time. For example, a labor exposing in the environment with the strong noise and suffer the hearing loss eventually. It may be an occupational disease.
Occupational Disease Type
Human-factors occupational diseases: tendinitis, carpal tunnel syndrome, disc herniation, etc.
Other occupational diseases: acute circulatory system diseases (fatigue), post-traumatic stress syndrome, occupational cancer, etc.
Biological occupational diseases: viral hepatitis, tuberculosis, etc.
Chemical occupational diseases: organic solvents, specific chemical substances, heavy metal poisoning, pneumoconiosis, contact dermatitis, etc.
Physical occupational diseases: hearing disorders, cataracts or keratitis caused by non-ionizing radiation, decompression sickness caused by abnormal pressure, diseases caused by abnormal temperature (such as high temperature and low temperature work), etc.
Occupational Disease Recognition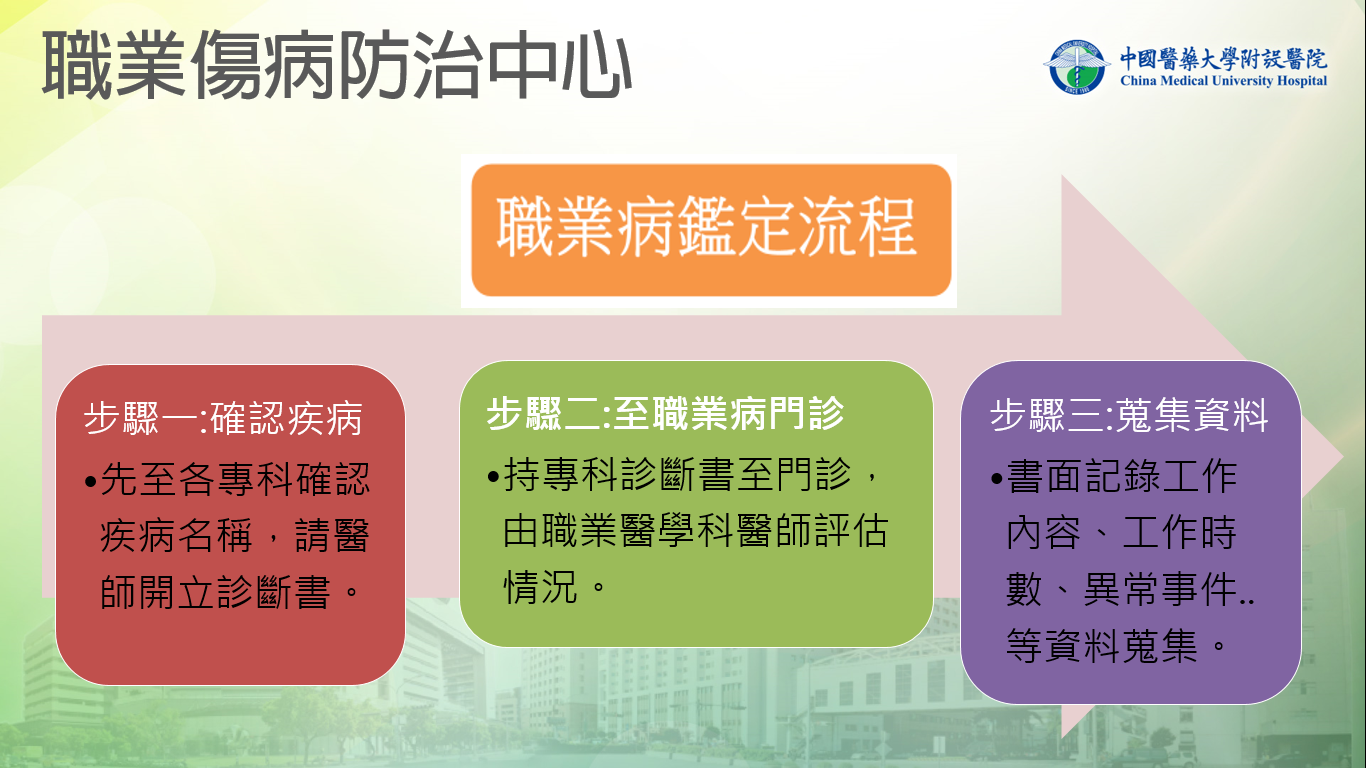 Occupational Disease Identification Notices
Please bring the data related to your work as follows:
Labor Insurance record (applied to Labor Insurance Bureau) or Labor Insurance Card
Diagnosis and treatment and examination information in other hospitals
Workspace photos
Self-introduction: Please record the history of the work in detail, including the number of working years, daily work hours, work flow, job content, load transportation or repeated actions (specified time, frequency, weight and frequency), time of injury or disease and medical treatment.
Occupational Injury and Disease Control Center service items
Occupational injury and disease consultation, diagnosis and identification services
Occupational injury and disease case management services and follow-up
Assistance with applications for occupational accident insurance compensation
Offer workers with occupational injuries referral to rehabilitation services
Assessment of return to work after treatment of workers with occupational injuries
Strengthen the work ability of workers with occupational injuries
Supportive employment and vocational rehabilitation services for workers with occupational injuries
Proposals for assistance in labor disputes
Allotment of work and evaluation of resumption of work
Overwork and maternal health consultation in the workplace