Latent Tuberculosis Infection 潛伏結核感染(英文)

Latent Tuberculosis Infection 潛伏結核感染(英文)
2020/12/28
Tuberculosis (TB) is an air-borne transmitted infectious disease. Symptoms could be minor in the early course of the disease. The symptoms include cough (lasting for more than two weeks), fever, loss of appetite, body-weight loss, fatigue, night sweats, chest pain, etc. People who live together or have close contact with confirmed TB cases are the most vulnerable to TB infection.
What is latent TB infection (LTBI)?
When people with immunocompetent status, they will be asymptomatic even infected by TB bacteria. This status is so called LTBI. Those who have close contact with TB infected cases are at high risk on TB infection. These is aproximately 5~10% chance of developing to active disease on LTBI patient, and highest incidence of onset within an year after infection.
Patients with LTBI are usually asymptomatic with negative chest X-ray findings, and unable to transmit TB pathogens to others. However, asymptomatic patients with TB infection could become active disease at any time, and the period from infection to onset is LTBI.
The number of TB bacteria is low on LTBI patient. If the LTBI is treated, the chance of developing to active TB in the future would be effectively minimized.
Population susceptible to TB when body resistance is poor
Family of TB infected case, persons with poor immune status, older people, diabetics, silicosis patient, long-term steroid users, alcoholics, immunocompromised and AIDS patients.
Who needs to be tested for LTBI?
Contacts of highly infectious TB cases need to be tested for LTBI. The health department will determine whether they are highly infectious based on their clinical and testing status, and check the LTBI exam items on the "TB contact referral form" to refer the contacts to a designated hospital for examination.
What are the exam methods?
Chest X-ray examination.
Diagnostic tools for latent TB:
Tuberculin skin test (for people younger than 5 years old)
Interferon-gamma release assay (for people older than 5 years old )
The doctor will choose one of the following treatments according to your condition
| | | |
| --- | --- | --- |
| Prescription | Frequency | Taking time |
| 速克伏( INH+Rifapentine) | Once a week | 12 times |
| Isoniazid(INH) | Once a day | 9 months |
| Rifampin(RMP) | Once a day | 4 months |
| Isoniazid(INH)+ Rifampin ( RMP) | Once a day | 3 months |
The best protective effect can be achieved the incidence of active disease can be reduced by caregiver personally delivering the medicine to patient and confirmed the patient taking medicie correctly.
How to live with LTBI patients
Help the LTBI cases monitoring side effects: loss of appetite, skin rash, jaundice …etc.
Relatives and friends should support and care about them, accept them, help them recover soon, and remind them to take medicine on time and return to the hospital for follow up.
Daily life as usual, no need for special diet nor getting more rest.
Develop healthy lifestyle habits, maintain better immunity, and reduce the possibility of TB bacteria re-activation leading to active disease.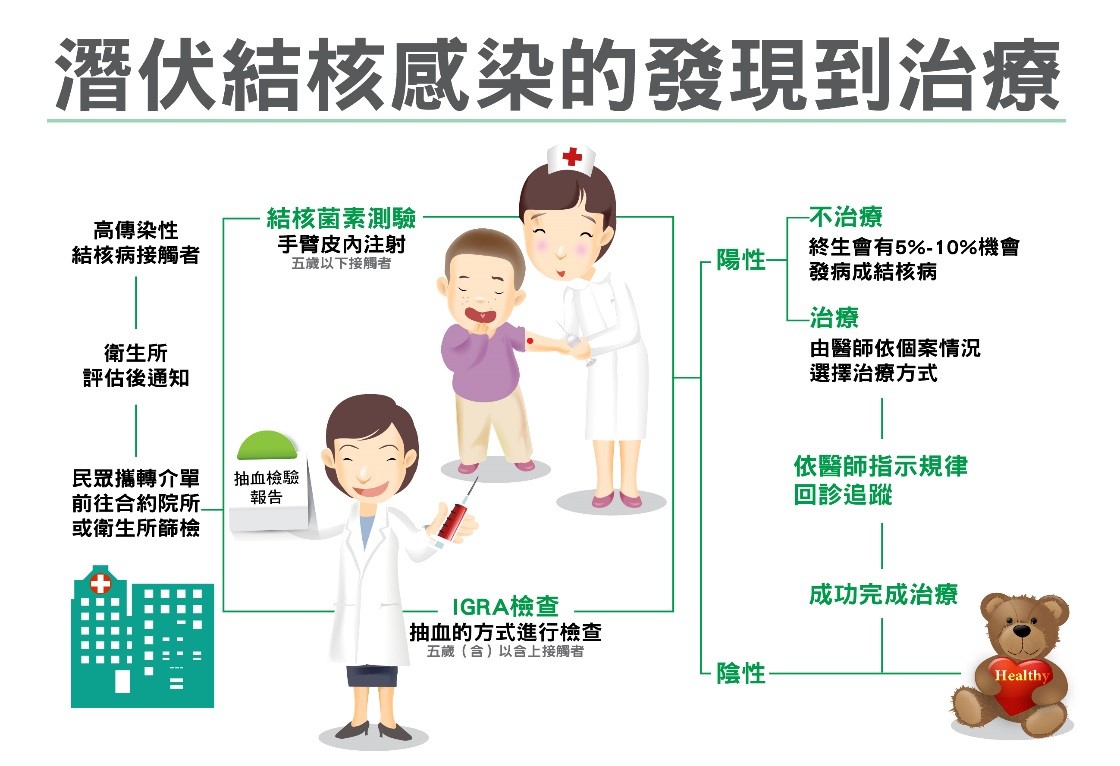 若有任何疑問,請不吝與我們聯絡
電話:(04) 22052121 分機 1938
HE-10292-E

中國醫藥大學附設醫院暨體系院所

}