Common Eating Problems in Patients with Chronic Obstructive Pulmonary Disease (COPD) 慢性阻塞性肺病(COPD)病人常見的進食問題(英文)

Common Eating Problems in Patients with Chronic Obstructive Pulmonary Disease (COPD) 慢性阻塞性肺病(COPD)病人常見的進食問題(英文)
2021/10/21
Eating Problems

Method of Improvement

Poor appetite, Anorexia

Eat small portion in multiple meals. Divide the meals to 6-8 times a day.

Prepare the food or appetizers preferred by the patient usually to enhance the appetite.

Change the eating order of food. Choose high-calorie and high-protein food first.

Take medicine that will enhance appetite.

Proper activities will improve digestion and appetite.

For inadequate intake, take oral supplement to replenish the calories or through feeding tube.

Abdominal Distention

Avoid eating gas-producing food, including onion, green pepper, sweet yam, potato, beans, milk, dairies, and carbonated food and drinks.

Do not chew gum or talk when eating to avoid inhaling too much air.

Eat liquid, mild food and food that can be emptied easily.

Avoid drinking too much beverage and soup during meal.

Engage in moderate exercise.

Take medicine, when necessary.

Constipation

Have proper amount of vegetable and fruit intake.

Have adequate water intake.

Increase activities properly to improve gastrointestinal motility.

Take stool softener, if necessary.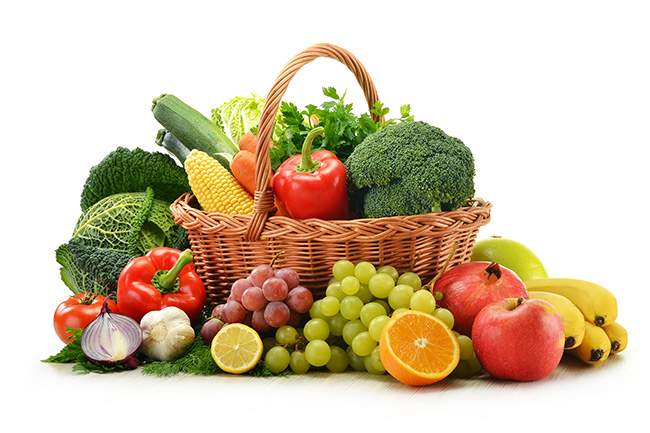 Food Portion Recommendation for 1200/1500/1800/2000 Kcal
| | | | | |
| --- | --- | --- | --- | --- |
| | 1200 Kcal | 1500 Kcal | 1800 Kcal | 2000 Kcal |
| Whole grains, root and tuber crops | 1.5 | 2.5 | 3 | 3 |
| Whole grains, root and tuber crops (unrefined)(Bowl) | 1 | 1 | 1 | 1 |
| Whole grains root and tuber crops (others) (bowl) | 0.5 | 1.5 | 2 | 2 |
| Soy beans, fish, meat and egg (portion | 3 | 4 | 5 | 6 |
| Low-fat dairies (cup) | 1.5 | 1.5 | 1.5 | 1.5 |
| Vegetables (plate) | 3 | 3 | 3 | 4 |
| Fruits (portion) | 2 | 2 | 2 | 3 |
| Oil and nuts (portion) | 4 | 4 | 5 | 6 |
| Oil (teaspoon) | 3 | 3 | 4 | 5 |
| Nuts(portion) | 1 | 1 | 1 | 1 |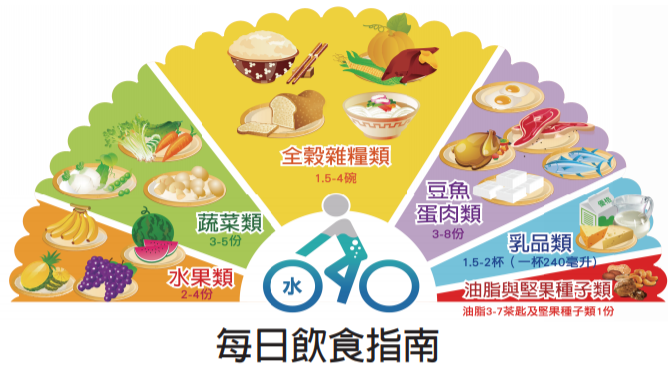 Photo courtesy by: Health Promotion Administration, Ministry of Health and Welfare
Reference:
Krause's Food & the Nutrition Care Process 14th edition
Taiwan Nutritional Practice Guidelines for Chronic Obstructive Pulmonary Disease
2019 Clinical Treatment Taiwan COPD
The dietary fiber from vegetables and fruits is obtained from "Taiwan Food Composition Database."
若有任何疑問,請不吝與我們聯絡
電話:(04) 22052121 分機 3253
HE-8C076-E

中國醫藥大學附設醫院暨體系院所

}